Remembering Jen
This article was written by two of Jen's classmates and posted on the Class of 2004 website. This site is no longer accessible online.
---
Jennifer Lynn Bernhards:
Strong in Spirit, Filled with Love, Happy in Life
A Remembrance of our Classmate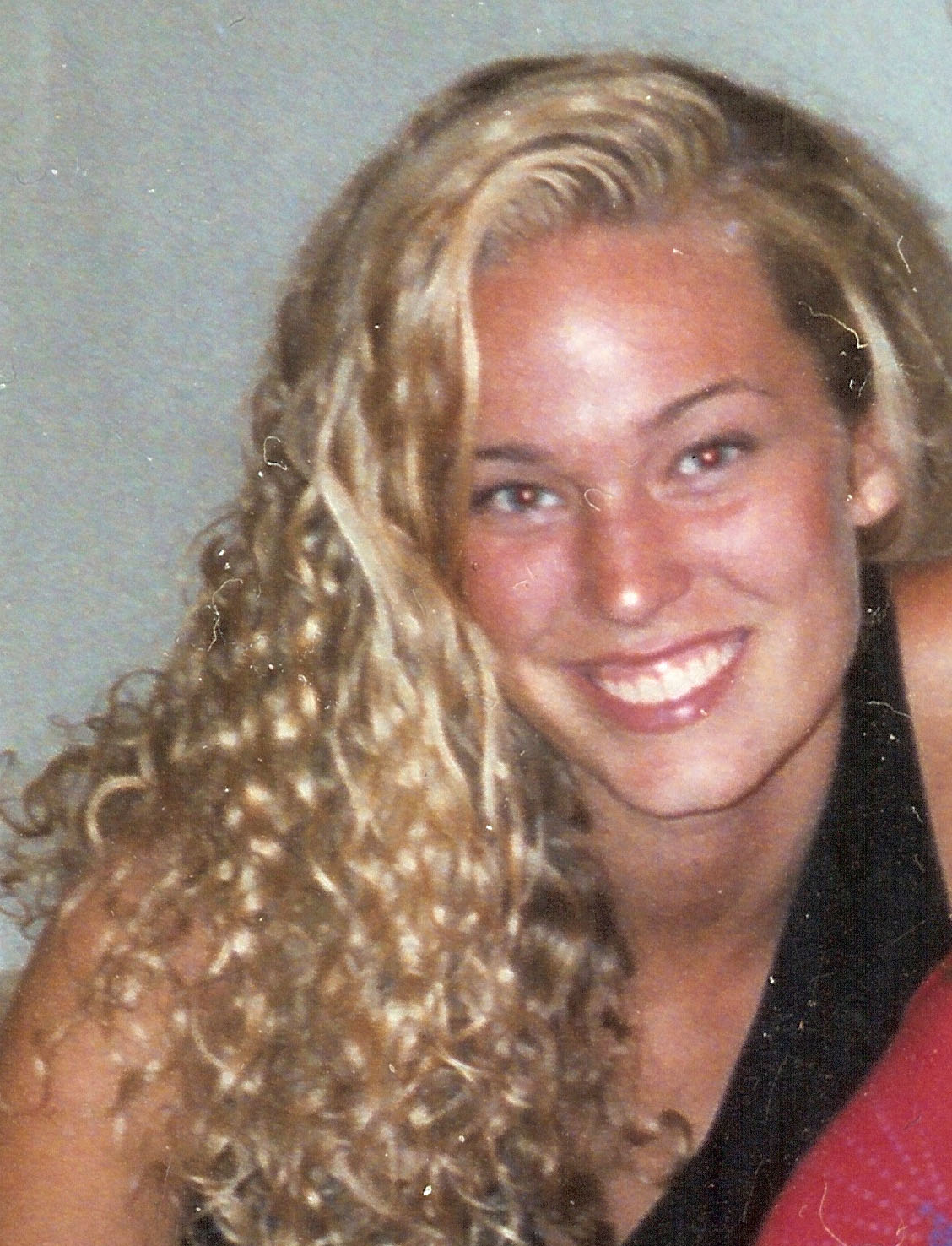 "She touched and taught us all." (Professor Jon Haidt, University of Virginia)
Jen Bernhards was probably someone you experienced at UVA if you were around the Grounds between 2000 and 2004. Perhaps it was the voice that spoke out in your English or Psych discussion sections with a zinger point about Chaucer or cognitive theory. She might have been your TA in Mental Health. Maybe it was as the hot blonde sorority chick with the great head of curly hair. It could have been when you had your butt kicked in Frisbee in the Mad Bowl by a girl. It probably was a time you didn't even realize who it was, but were struck by her laugh or smile as she passed by.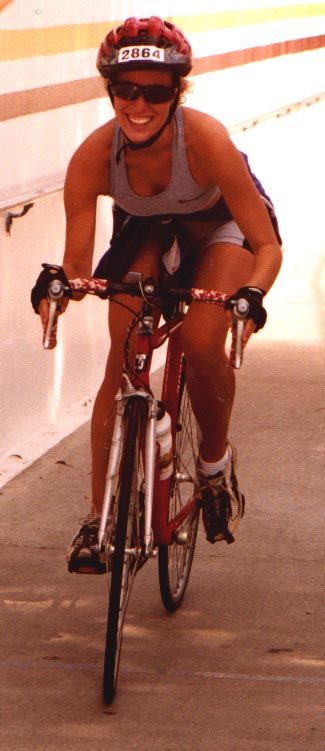 Jen was a native Virginian and grew up in Fairfax County. She kept herself busy as a soccer, track, and lacrosse enthusiast and was a committed volunteer with church youth group service activities. Jen's musical talent with the trumpet found an outlet at school, all-state band, and the Virginia Governor's School for the Performing Arts. Among her sports, humanitarian and academic endeavors, Jen also found time for 300-mile summer bike trips with her father through the roads of Maine and Canada. In 2000, her achievements were recognized by early admission to the University of Virginia with accompanying scholarships.
When Jen stepped onto Mr. Jefferson's hallowed Grounds, she brought that same ambition and excitement to the University community. Taking a cue from her own childhood, she coached a Charlottesville youth soccer team. No longer with her hometown youth group, she remained committed to service. Jen spent her spring break with Habitat for Humanity building homes in Florida. She was a trained hospice officer for the Charlottesville chapter. A member of the Delta Gamma sorority, Jen made sure her involvement with the DG philanthropy, Service for Sight, was meaningful. She regularly took an elderly Charlottesville man with vision loss shopping; she was engaged in the Reading for the Blind program. Jen was active in other sides of her sorority as well—she fully supported 'efforts' like date functions, theme parties, and nights at Down Under with a fantastic outfit and killer dance moves. It should come as no surprise that Jen was a pledge mom to a new class of UVA girls. She often was found at the house, well after chapter meeting had ended, sitting with the new girls—invested in listening to their fears and problems as new college students.
Jen's own sports endeavors found a new home in her winning 7 on 7 intramural football as a team member of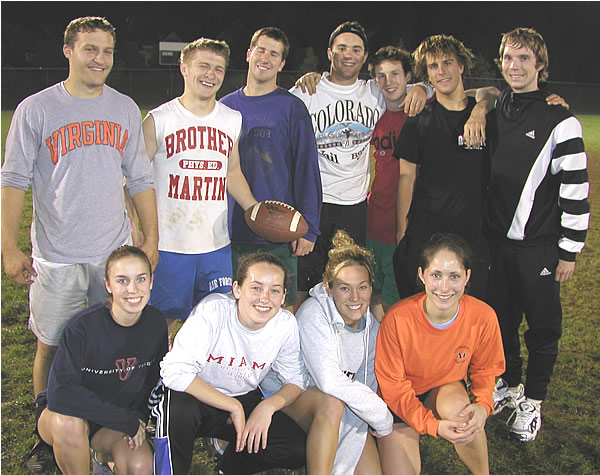 The Machine. She continued her biking adventures with her family, riding the Seagull Century with the infamous Team Lardbutt, comprised mostly of her father's middle-aged biking buddies. Jen balanced her many volunteer activities with the chance to meet potential new UVA football stars in the Cavalier Connections program. While free lunch, box seats, and social time with athletes were appealing perks of the program, Jen preferred to sit in the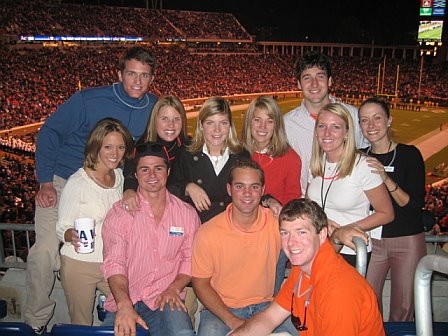 student section's sea of pearls and bowties, cheering on her 'Hoos' to (sometimes) victory. Her accomplishments at UVA did not go unnoted, and she received honors and recognitions from secret societies around Grounds, including the Agape Society and the Purple Shadows. During her fourth year, Jen was awarded a year's tuition through the Thomas Rodney Crowley, Jr. Memorial Scholarship for her proficiency in athletics and academics, as well as her integrity, competitiveness and team leadership.
In the midst of her successes and accomplishments at the University, Jen also faced one great challenge. In the fall of her third year, she was diagnosed with a brain tumor. Always one to live her life fully, Jen remained engaged in all of her activities. In addition, she became an active voice in fighting cancer. Dr. David Schiff of UVA's Cancer Center said, "Her positive outlook and attitude, complete lack of self-pity, and ineffable sweetness inspired me deeply." Jen was a friend to a young cancer patient in Charlottesville, and was able to support him as one who understood his struggle. Jen authored a pamphlet, available at UVA's Cancer Center, titled Looking Back, Walking Forward. She based the pamphlet on conversations with her friend, hoping to provide a personal perspective to teens and young adults with cancer, and their supporters. In the fall of 2003, Jen organized a fundraiser to support UVA's brain tumor research program. Assisted by Delta Gamma, FORCE, and numerous UVA friends, Jen mapped out an advertising campaign, tracked donations, located a venue, and hosted inspirational songwriter-singer David M. Bailey, who shares his experiences of living with a brain tumor through his music. Her original goal to raise $10,000 was met well before the concert. The final tally was closer to $40,000.
Jen's joyous spirit embraced everyone around her. Despite the adversity in her life, Jen found a way always to remain mischievous, positive, and successful. Jon Haidt, one of Jen's Psychology professors says:
"The most memorable day of my 12 years of teaching at UVA was the day that Jen led the discussion, in my positive psychology class, on 'growth through adversity.' The joy in life, the love of friends and family, the wisdom that Jen had acquired during her struggles with cancer—she shared all of this with the class, and we each got to take a little bit home with us."
Before our graduation, the Cavalier Daily quoted Jen about a fellow graduate whose family had a very difficult past: "[He is] a huge role model for everyone. He has definitely overcome every obstacle." You would never guess that Jen had been through two brain surgeries, intensive radiation, and chemotherapy, while simultaneously completing a double major in English and Psychology, graduating on time in May 2004. As was her way, Jen recognized the struggles of others and put their triumphs ahead of her own difficulties.
The strong effect of Jen's life was felt at her memorial service on October 18, 2006. Grace Presbyterian Church in Springfield, Virginia, was overflowing with more than 800 people in attendance—many standing outside the church. Family and friends gave thanks and celebrated Jen's life. They spoke about a vibrant, talented, and loving woman. The church was full of emotion and love towards Jen; one could picture her smiling just by hearing those closest to her speak about her. Jen's spirit will live on through all the people she has touched. One of Jen's English professors, Karen Chase, wrote, "I will forever keep her image before me as a reminder that there are no conditions so adverse as to squash kindness, generosity and warmth." This is the legacy that Jen has imprinted on all those who remember her.
In memory of Jennifer and in keeping with her desire to help others, donations can be made to one of the three following charities: The University of Virginia's Neuro-Oncology Research Fund; FirstBook.org; and a scholarship fund through Grace Presbyterian Church (please go to www.memoryofjen.org for more details on all three).
Jen has inspired me to live life to the fullest and I will continue to remember how she always smiled, loved to help others, and took the time to listen to me, a fellow cancer patient, even while she was dealing with her own uncertainties with this disease.
By Kai Van Eron with Kate McNamee